How to find your ring size
in three easy steps
01
Carefully circle the base of
your Ring Finger using some string. Pinch and hold
the point where the tip meets the rest of the string.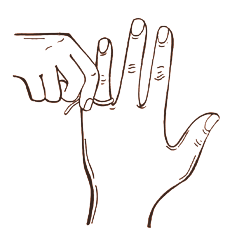 Ensure that your ring size is snug enough so that it does not fall off, but loose enough that it can slide over your knuckle.

02
Straighten out the measured stretch of string and hold it against a scale or a tape measure (on the millimetre side) to find the exact circumference of your ring finger.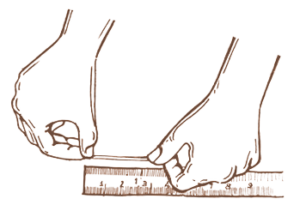 03
On the table given below, find the closest circumference to what you measured. Your Ring Size would be the number given on its right hand side.
CIRCUMFERENCE / RING SIZE (INDIAN) _________________________________________________________________
41.01 mm / 1
42.70 mm / 2
42.90 mm / 3
43.60 mm / 4
44.80 mm / 5
46.10 mm / 6
47.40 mm / 7
48.00 mm / 8
50.00 mm / 10
51.20 mm / 11
51.90 mm / 12
53.10 mm / 13
54.40 mm / 14
55.10 mm / 15
56.30 mm / 16
57.00 mm / 17
58.30 mm / 18
60.20 mm / 20
60.80 mm / 21
62.10 mm / 22
62.70 mm / 23
64.00 mm / 24
64.60 mm / 25
65.90 mm / 26
67.20 mm / 27
67.80 mm / 28
69.10 mm / 29
71.00 mm / 30